It's hard to miss the fact that Halloween is right around the corner, but unless you live
in California, Arizona, Texas, etc., you might miss its calendar cousin, the Mexican Day of the Dead, or Dia de los Muertos that follows on Nov 1-2.
Originally celebrated during the ninth month of the Aztec solar calendar (mid-summer) to honor the dead and the continuation of life and rebirth, the Day of the Dead was moved to coincide with All Souls Day and All Saints Day when the Spanish conquistadors gave up eradicating the custom and settled for making it more Catholic-friendly. Kathy Cano Murillo, the
Crafty Chica
, has a wonderful
podcast
describing the background and traditions of Dia de los Muertos, definitely worth listening to! And it's so appropriate that it's from her of all people, because crafts and decorations are big during DdlM. We have always been fascinated by the
sugar skulls
ever since we read about them in Ray Bradbury stories. (Someone was always getting stuck in an old catacomb with the mummies in those stories.)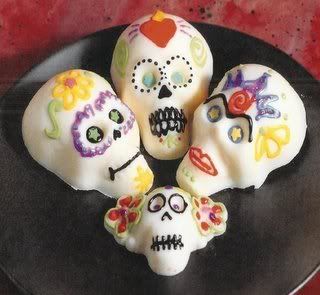 Mexican Sugar Skulls
company has great site full of things to create, buy, wear, including
molds
and instructions so you can
make your own skulls
, and
cool t-shirts and fabric
. The
Crafty Chica has a yummy recipe
for these white chocolate skulls you see at right (a project from her
Art de la Soul
book) and she's provided a
link to a video
on how to make them! Now doesn't that sound better than candy corn? A virtual font of information about the Day of the Dead is available at
AZCentral.com
-- food, traditions, history, altars, awesome art by Kathy's husband, artist Patrick Murillo, and it's really fun to go through. Plus you can send some of Patrick's art on
skullery e-postcards
! And now for some favorite Day of the Dead t-shirts: We love this quirky design from
Sugar Skulls
, and the cool back image is half the fun!
The traditional Katrina graphic is a dead give-away (oh yes, i did say that) that it's Dia de los Muertos. This lovely lady in a hat is one of the many Day of the Day shirts offered by
Worlds Best Shirts.
Ok, we've wondered about the skeletons with marracas.
CelebrationTees
have a line of DotD shirts, including some with this graphic. Now shouldn't the skeletons be able to make rattling sounds without shlepping marracas around? Still, everyone likes to accessorize:
Artist Barbara Burns has created a delicate and ethereal design with her own special spin --
Day of the Dead dragonflies
.
This black shirt by
Full Moon Emporium
blends modern and traditional styles. The design is available on shirts of other colors as well.
We also loved the artistry and macabre humor at
Sonoran Sunsets:
While its roots are in the serious custom of honoring departed loved ones, there is also fun to be had, and aspects of El Dia de los Muertos that can be appreciated by people of all backgrounds. No bones about it. [tags]day of the dead, mexico, dia de los muertos, mexican, sugar skulls, crafty chica, kathy cano murillo,[/tags]